Manchester International School, where our commitment to providing an exceptional educational experience is reflected in our world-class facilities. Our campus boasts a diverse range of amenities designed to enrich the learning journey of our students. Explore the array of state-of-the-art facilities that make Manchester International School a hub of educational excellence:
Spacious and Resourceful
Classrooms
Our classrooms provide an ideal setting for learning, offering ample space and a conducive atmosphere for students to engage, collaborate, and excel in their studies. Equipped with modern teaching aids and resources, our classrooms empower our educators to deliver innovative and engaging lessons.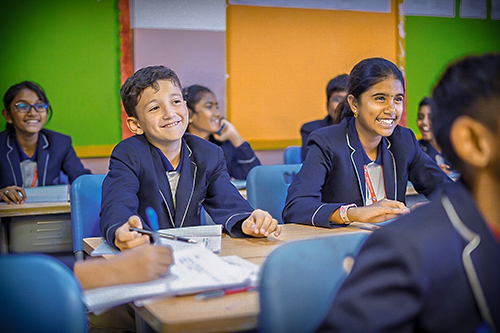 Library with Over
15,000 Books: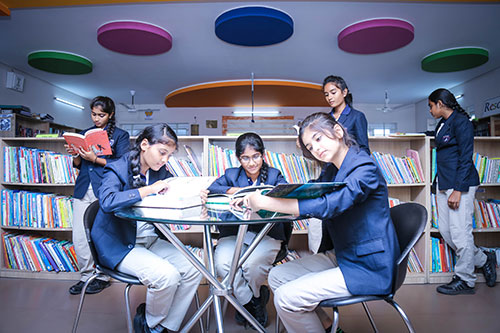 Knowledge is the foundation of growth, and our library stands as a beacon of information and inspiration. With a collection of more than 15,000 books spanning various genres and subjects, our library serves as a haven for avid readers and researchers alike.
E-Library
In today's digital age, access to a wealth of online resources is essential for comprehensive learning. Our E-Library is a cutting-edge addition to our traditional library, offering a vast digital repository of e-books, academic journals, multimedia resources, and research databases. Whether students are conducting research, seeking reference materials, or exploring e-books, our E-Library is a dynamic and versatile resource that empowers them to stay current with the latest information and knowledge.
The E-Library provides students with the convenience of 24/7 access to a vast collection of digital materials, ensuring that learning knows no bounds. It serves as a hub for e-learning, research, and exploration, further enhancing our commitment to academic excellence and innovation.
At Manchester International School, we understand that the future of education is increasingly digital, and our E-Library reflects our dedication to preparing our students for success in an ever-evolving world. With both physical and virtual libraries, we ensure that our students have the resources they need to excel academically and cultivate a lifelong love for learning. Explore the limitless possibilities of our E-Library and embark on a journey of knowledge and discovery like never before.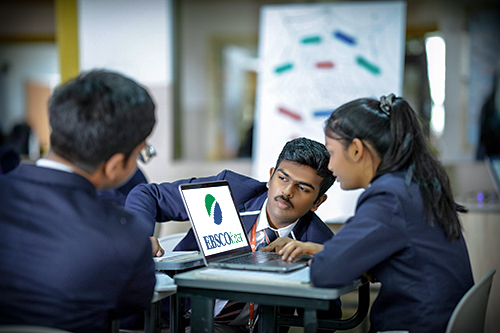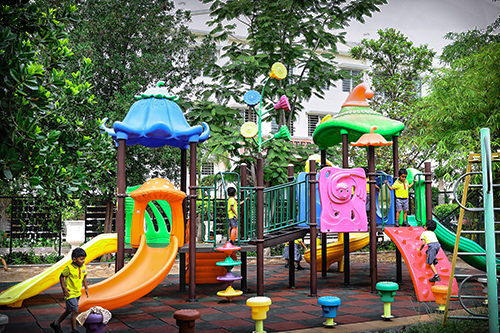 Kindergarten Block with
International Standards
Our Kindergarten Block is designed to meet and exceed international standards for early childhood education. It offers a safe and nurturing environment where our youngest learners embark on their educational journey with confidence and enthusiasm.
Kindergarten
Library
In our Kindergarten Library, young minds embark on exciting literary adventures. Filled with age-appropriate books and interactive learning materials, this space fosters a lifelong love for reading and exploration.
Jungle
Gym
Our Jungle Gym provides a fun and safe space for children to play, encouraging physical activity and the development of essential motor skills.
STEAM
(Robotics and 3D Animation)
Our STEAM facilities empower students to explore the exciting world of robotics and 3D animation, promoting creativity and critical thinking.
Language
Lab
The Language Lab is equipped with cutting-edge technology to enhance language learning, helping students become proficient in multiple languages.
Photography
Studio
For budding photographers and visual artists, our Photography Studio offers the perfect space to explore their passion for imagery.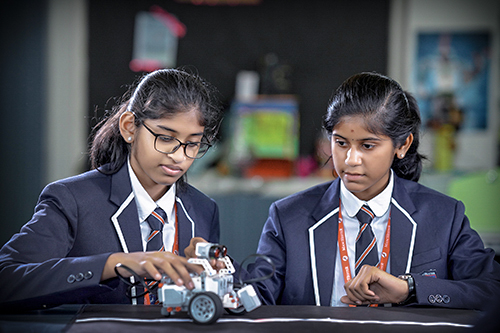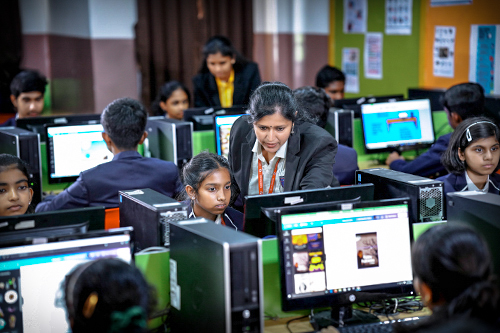 Music and Art
Studio
Our Music and Art Studio allows students to unleash their creativity, whether through painting, sculpting, or making beautiful music.
Computer
Labs
Modern computer labs are equipped with the latest technology, providing students with the tools they need to excel in the digital age.
Dance
Floor
The dance floor is where students can express themselves through movement and rhythm, nurturing their artistic and physical abilities.
Splendid Basketball
Court
Our state-of-the-art basketball court offers a space for students to develop their athletic skills and sportsmanship.
Lush Green Football
Ground
The football ground provides a perfect setting for students to hone their soccer skills while enjoying the outdoors.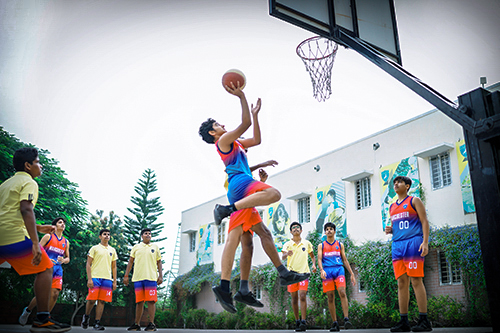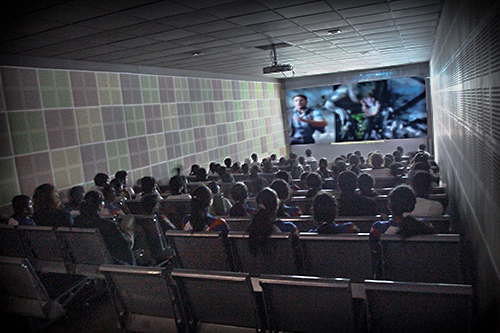 3D Theatre with 120
Seating Capacity
Our 3D theatre is a space for immersive learning experiences, where students can explore the world from a new perspective.
Art
Gallery
The Art Gallery showcases the creative talents of our students, providing a platform for artistic expression.
Auditorium Seating Capacity
of more than 1500 people
Our auditorium is a venue for grand performances, presentations, and gatherings, accommodating a large audience with comfort and style.
Classrooms with Smartboards
(Digi-boards)
Equipped with smartboards, our classrooms offer cutting-edge teaching and learning experiences.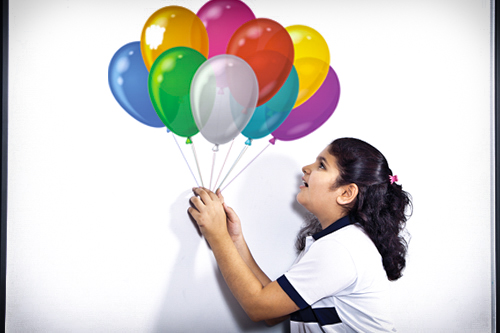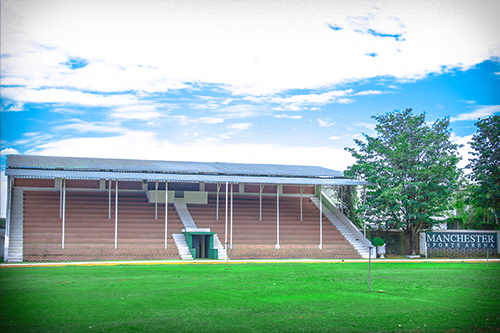 Stadium with a Seating Capacity
of more than 1200 people
Our stadium hosts sporting events and gatherings, fostering school spirit and community engagement.
Trendy Tennis Court
and Volleyball Court
These courts cater to students interested in tennis and volleyball, promoting physical fitness and teamwork.
Athletic
Track
Our athletic track provides a space for students to train and compete in various track and field events.
Badminton and Rifle
Range
We offer facilities for both badminton enthusiasts and those interested in rifle shooting.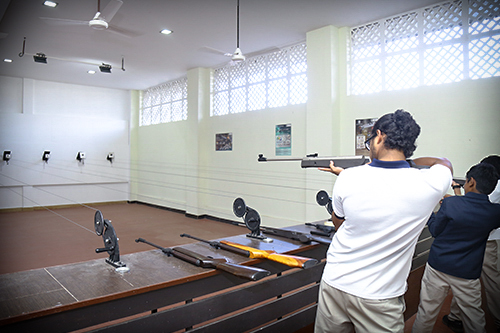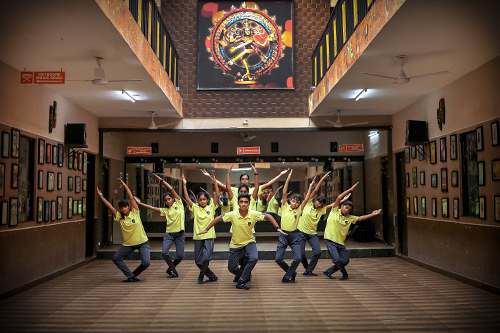 Cricket
Ground
The cricket ground is where cricket enthusiasts can practice and enjoy their favourite sport.
Cultural
Block
The Cultural Block is a hub for cultural activities, celebrations, and performances.
Indoor Skating
Area
Our indoor skating area offers a safe and enjoyable space for students to skate to their heart's content.
Classy
Cafeteria
The cafeteria serves nutritious meals in a welcoming environment, ensuring students have the fuel they need for their studies and activities.
Green
Environment
Our lush, green surroundings provide a tranquil backdrop to our campus, fostering a sense of well-being and environmental consciousness among our students.